WCPFC Secretariat shares knowledge at the 23rd National Tuna Congress in Philippines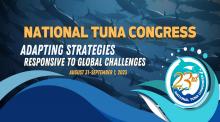 September 19, 2023- Manila, Philippines - The 23rd Annual National Tuna Congress and Trade Exhibit took place from August 31 to September 1, 2023, in General Santos City, Philippines under the theme "Adapting Strategies Responsive to Global Challenges." The event brought together industry leaders, experts, and stakeholders to tackle critical issues facing the tuna industry and develop sustainable solutions for its future.
WCPFC Assistant Science Manger, Ms. Elaine Garvilles addressed attendees on the topic of "Catch Estimation and Status of Tuna Stocks in the Western and Central Pacific Ocean." Her insights provided valuable perspectives on the state of tuna stocks, contributing to the broader discussions on sustainable fishing practices.
The Philippines, renowned as a top global exporter of various tuna species, including yellowfin, skipjack, and bigeye tunas, played a pivotal role in the discussions. The Congress facilitated extensive deliberations through panel sessions, presentations, and workshops, encompassing a wide array of topics pertinent to the industry.
In addition to the knowledge-sharing sessions, the event fostered opportunities for networking and collaboration among participants. Attendees had the privilege to forge new partnerships, connect with peers, and explore potential business ventures. The Congress also featured a vibrant trade exhibition where companies showcased their cutting-edge sustainable fishing technologies, state-of-the-art equipment, innovative processing techniques, and value-added tuna products.
The 23rd Annual National Tuna Congress and Trade Exhibit served as a platform for collective action, reinforcing the commitment of industry leaders and stakeholders to address global challenges faced by the tuna sector. The fruitful discussions and collaborations are expected to yield lasting positive impacts on the sustainable future of tuna fishing in the Western and Central Pacific Ocean.
For further information, please contact: wcpfc@wcpfc.int
About WCPFC    
The Western and Central Pacific Fisheries Commission (WCPFC) is one of five global tuna regional fisheries management organizations, responsible for the conservation and sustainable use of highly migratory fish stocks, particularly tuna, in the Western and Central Pacific Ocean.  Established in 2004, the WCPFC comprises 34 member countries and territories, and seven cooperating-non-members dedicated to promoting the sustainable management of the world's largest tuna fishery.  The WCPFC Secretariat is headquartered in Pohnpei, Federated States of Micronesia.
The 23rd Annual National Tuna Congress and Trade Exhibit was hosted by the SOCSKSARGEN Federation of Fishing and Allied Industries, Inc. (SFFAII) in collaboration with various partners, including the Local Government Unit of General Santos City, Bureau of Fisheries and Aquatic Resources, Department of Trade and Industry, Phili
News Item Updated 4 Oct, 2023