Celebrating staff achievements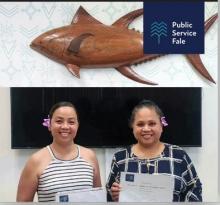 Two WCPFC Secretariat staff, Jeannie Hawley (RFV Officer) and Virginia Ezekias (VMS Operations Officer) celebrate their recent completion of the Fale Women in Leadership Workshop Series.
The Fale workshops have been developed specifically for women in Pacific contexts to explore together their ideas of leadership, to safely examine the systems they work in and to strategise and decide what actions they will take including to personally lead and influence positive changes.
Jeannie was one of three of the workshop attendees chosen to provide a presentation at the final workshop that summed up their thoughts and learnings on the course. Both are grateful to their fellow attendees for openly sharing their experiences and have already been putting some of the tools they have learnt to good use. Jeannie and Virgie say they are continuing to develop their own leadership skills, to challenge themselves and to build wider support networks with their co-workers.
If anyone is interested in the Fale training and development resources available for our Pacific colleagues, please see Public Service Fale FaleOnline: FaleOnline Home
For further information, please contact: wcpfc@wcpfc.int
About WCPFC    
The Western and Central Pacific Fisheries Commission (WCPFC) is one of five global tuna regional fisheries management organizations, responsible for the conservation and sustainable use of highly migratory fish stocks, particularly tuna, in the Western and Central Pacific Ocean.  Established in 2004, the WCPFC comprises 34 member countries and territories, and seven cooperating-non-members dedicated to promoting the sustainable management of the world's largest tuna fishery.  The WCPFC Secretariat is headquartered in Pohnpei, Federated States of Micronesia.
News Item Updated 20 Oct, 2023